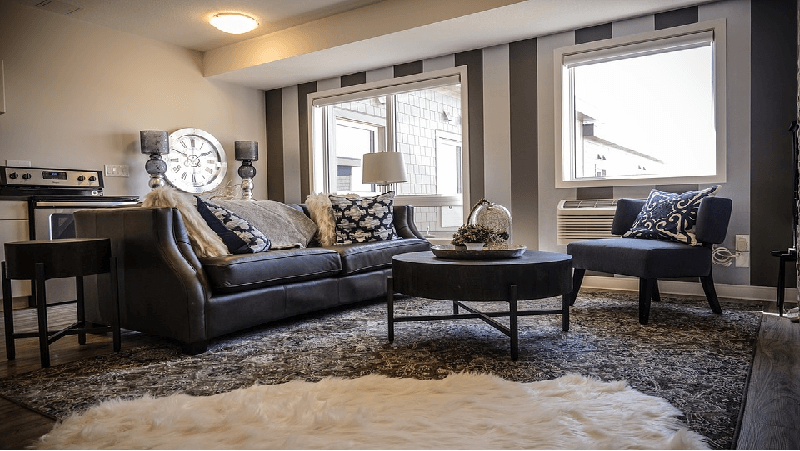 There's nothing like the perfect rug to bring a room together. One of the main rooms requires a rug in the living room rug. Rugs are so versatile that it makes it difficult to know how best to use them.
Here are a few ideas to give you some inspiration on how to style the rug in your living room:
Bring the Circle Around
An oversized circle rug can transform a drab living room into a more appealing place to hang. The coloring of the rug should contrast with the color of the flooring underneath.
Add a few circular touches to the rest of the room to keep harmony in your style. This could be a round mirror or a globe lamp, whatever works in the space.
Layers Are In
One of the newest rug trends is layering one rug over another. Of course, for this to work, you need to choose rugs of different sizes and colors.
Kind of like layering your favorite sweaters, layering rugs can not only add to the style of the room but also provides more warmth to the room.
Match the Art
Choosing a rug that compliments or mimics your favorite piece of art on the wall helps to draw the entire room together with a theme.
For example, if you have a black and white city photo on your wall, a marbled black and white rug will really set the decor and also showcase the hung photo as well.
Also, read Why Is It Important to Find the Perfect Mattress?
Bright and Beautiful
For some, a rug should be neutral and subtle to allow the rest of the room to take the spotlight. Why not take some risk and choose a bright, bold, and beautiful rug with a colorful pattern?
You can pull this off well with a neutral set of furniture and a few colorful accent pieces.
Take this rug-style quiz to see if you can pull this off.
Go Geometric
Geometric patterned rugs are in as well. Whether it's a line of triangles or graduated squares, this repetitive pattern is pleasing to the eye and can give the illusion of a larger space.
Shag rugs with a diamond pattern are a very popular choice for a modern living room.
Textured Neutral
Neutral is the safe and easy way to go but it can get boring. To pull off a more interesting version of the traditional neutral rug, find one with an interesting texture.
This can be in the form of knots, lines, or squares.
Get Animalistic
Cowhides, faux zebra hides, and animal prints can add a little spice to an otherwise domicile room.
These rugs pair well with lots of greenery, sophisticated sculptures, and decadent textiles.
Conclusion
To design your living room right, you need to find the perfect rug to compliment your style.
The above ideas are just a few to get you to begin your search. Of course, you will need to find a unique rug that works best with your furniture, lighting, and room size.