Today lot of the users are prefer strongest content management system like WordPress plugins for their website due to the valuable functionality provided by WordPress .people are looking to make a sustainable website using WordPress plugins. It is necessary to have a right choice of plugins while developing your website. Below are listed some best widely used WordPress Plugins check which plugins should use to improve your website efficiency.
Google XML Sitemaps-The best plugin to index website content is Google XML Sitemaps. Google XML Sitemaps is compatible with webmaster tools like Google, Yahoo. It also helps to create a dynamic sitemap for blogs. It can be generated automatically for all kinds of WordPress Pages.
Sociable- It is one of the ultimate advanced feature-packed plugins for setting up a rating system on your WordPress. It contains many different features like text, length, colour to let the user experience excellent Sociable Experience.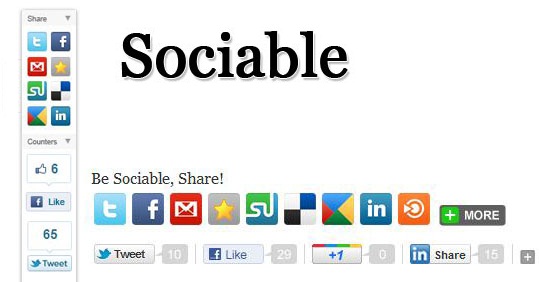 Quick Cache- It is advanced techniques to decide whether to serve the cached version to your files.  Builds cache of every post, page, category, and link on your site. The engine can be completely controlled by you who make these decisions.
 Akismet–Akismet plugin helps you by removing the comments who look like spam by Comparing each comment against its database. To take action against spam comment Akismet plugins are used. With automatic checking of all the comments and filter out the comments that look like spam & prevent your website.
Contact Form 7-Contact Form 7 allows you manage multiple contact forms from a single dashboard with customizable form and mail contents flexibly with simple markup. You can also translate from in a number of languages.
The Events Calendar–If you want to host many events on your site then event calendar WordPress plugin is the best option. Among many event plugins, event calendar plugin is one of the reliable plugins. This plugin will save a huge amount of time by quickly creating a new event with many functionalities.
Google Analyticator-In order to make your WordPress site popular among user than you can use Google Analyticator plugins, This Plugin adds necessary JavaScript code to enable Google Analytics on your WordPress Dashboard. It supports site speed tracking and downloads link tracking. It is also easy to install.
Yoast SEO-To improve your website ranking on search results and to create better content Yoast SEO is a very powerful plugin. Yoast SEO provides options for dealing with web page titles, page descriptions, and website URLs. In XML sitemaps it allows you optimise your Web page content, Image titles and Meta Descriptions.
WP Google Fonts– This plugin allows you to select verity of Google font to insert into your website without coding.one of the simple form to verity of Google font without any coding and applicable to any WordPress theme. You can simply change the look of your site with single button click.
WP Link Status Pro-To fix broken links of your website use WP Link Status Pro. Broken links are also known as dead links. Broken links have a bad effect on your WordPress site and hence can affect on your website functionality.