Denim, a versatile fabric, has become a fashion staple worldwide. Among its various iterations, the diverse array of jeans cuts stands out for its adaptability and timeless appeal. From the classic skinny jeans to the trendy wide-leg styles, understanding the nuances of each cut helps in selecting the perfect pair for any occasion or personal style.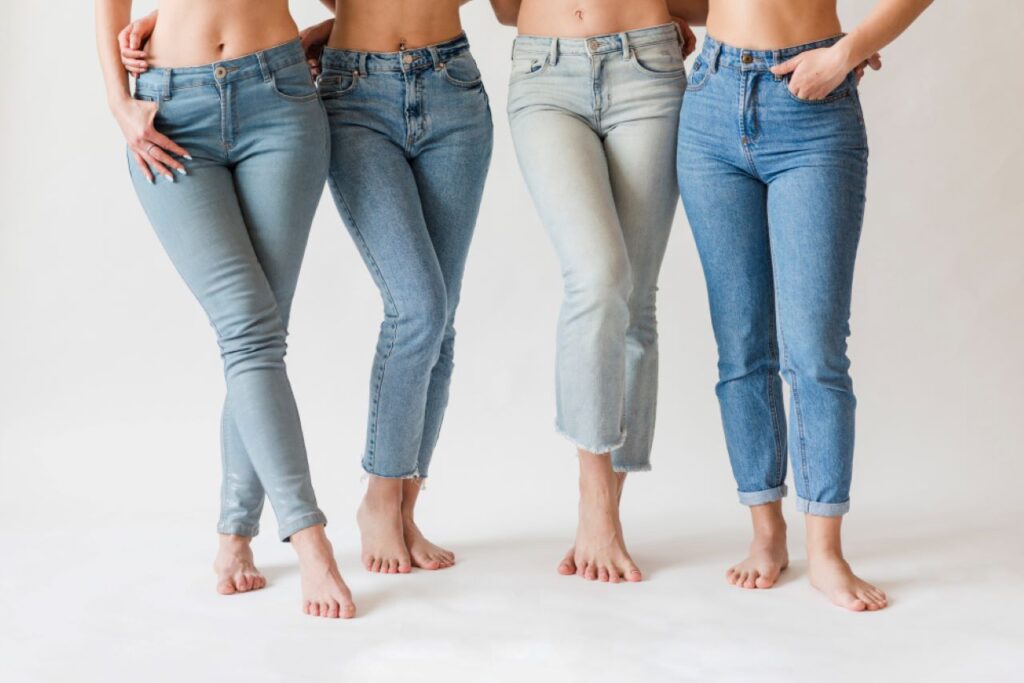 Exploring the World of Jeans Cuts
1. Skinny Jeans
Skinny jeans, known for their snug fit, contour the legs from waist to ankle, creating a sleek and streamlined silhouette. This style is versatile, easily transitioning from casual to more formal settings. Over time, variations such as super-skinny and jeggings have emerged, offering different levels of tightness and stretch.
2. Straight-Leg Jeans
These jeans maintain a consistent width from the hip to the ankle, providing a classic and timeless look. The straight-leg cut is favored for its simplicity and adaptability, making it a wardrobe essential suitable for various body types.
3. Bootcut Jeans
Fitted through the thigh and subtly flaring from the knee to the ankle, bootcut jeans were initially designed to accommodate boots, but they have become a style statement in their own right. The slight flare offers balance and can elongate the legs, making them a popular choice for many.
4. Flare Jeans
Bringing a retro vibe, flare jeans have a dramatic wider flare from the knee downward, creating a bold, eye-catching look. They often make a strong fashion statement and are ideal for those looking to embrace a '70s-inspired style.
5. Boyfriend Jeans
Known for their relaxed and slouchy fit, boyfriend jeans provide a comfortable and effortless style. Inspired by men's jeans, this cut usually features a looser fit around the hips and thighs, offering a more casual and relaxed appearance.
6. Mom Jeans
With a high-waisted, relaxed fit and often a tapered leg, mom jeans have made a significant comeback in recent years. This style offers comfort while maintaining a vintage and chic aesthetic, proving to be a popular choice among fashion enthusiasts.
7. Cropped Jeans
Cropped jeans, as the name suggests, are intentionally shortened to end above the ankle. This style is versatile, allowing for various interpretations such as straight-leg cropped or wide-leg cropped jeans, making it a great choice for showcasing footwear or adding a touch of personality to an outfit.
8. Wide-Leg Jeans
Wide-leg jeans offer a more generous fit from the hip to the ankle, providing a relaxed and comfortable style. This cut has gained popularity for its retro and bohemian vibes and can be styled in various ways, catering to both casual and semi-formal settings.
9. High-Waisted Jeans
Sitting at or above the natural waistline, high-waisted jeans offer a flattering and elongating effect. This style is favored for its ability to accentuate the waist and complement various body shapes.
10. Low-Rise Jeans
Contrasting with high-waisted jeans, low-rise jeans sit lower on the hips, typically below the natural waistline. While they were highly popular in the early 2000s, this cut is making a resurgence, offering a more relaxed and casual look.
The Evolution of Jeans Cuts
Throughout history, jeans cuts have evolved in response to fashion trends, societal changes, and individual preferences. From the iconic designs of the 1950s to the trendy innovations of the 21st century, the evolution of jeans cuts reflects the dynamic nature of fashion.
Jeans have not only become a wardrobe essential but also a symbol of self-expression and individuality. The diverse range of cuts caters to different preferences, body shapes, and style sensibilities, ensuring there's a perfect pair for everyone.
Conclusion
Understanding the different types of jeans cuts is an essential aspect of fashion and personal style. From skinny jeans to flares, the perfect pair of denim can perfectly reflect a person's style preferences and lifestyle. As you navigate the world of denim, it's also important to be mindful of your budget. To get incredible looks at affordable prices, be sure to check out discount clothes in Orem. Don't let high prices keep you from expressing your unique style with the perfect pair of jeans.