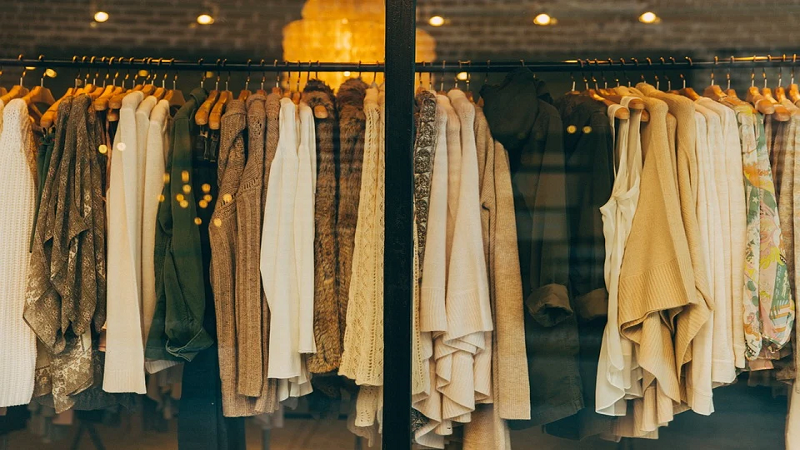 2023 is the year of mix and match and revival of old trends. The 90s have been making a comeback in recent years, with trends such as chunky sneakers, crop tops, and high-waisted jeans being popular among fashion enthusiasts. Oversized clothing has been trending for a while now, with baggy jeans, oversized jackets, and loose-fitting shirts being popular choices.
However, It's important to note that fashion trends are constantly evolving and changing, and what is popular now may not be popular in the future.
Check out the list of trends below and pick the best styles for you.
1. Cropped Cotton-Poplin Shirt:
Cropped cotton-poplin shirts come in a variety of colors and patterns, from classic white to bold stripes or prints. The cotton-poplin fabric is lightweight and breathable, making it ideal for warm weather or layering under jackets or sweaters during cooler months. They can be worn with high-waisted jeans or skirts for a trendy and stylish look. They can also be paired with shorts or layered over a dress for a more casual and comfortable outfit.
2. Tapered Utility Jeans:
Tapered utility jeans can be styled in various ways, from a casual look with sneakers and a t-shirt to a more dressed-up look with heels and a blouse. They can also be paired with a blazer or denim jacket for a more polished look. A statement belt or a pair of sunglasses can be added to complete the look.
These jeans are versatile and can be worn in various settings, from running errands to going out for a night on the town. They are also a great choice for outdoor activities, as the durable fabric and practical design make them suitable for hiking, camping, and other rugged activities.
Also, read Dress You Best with these Trendy Top Styles
3. Cargo Pants:
Cargo pants can also be dressed up or down, depending on the occasion. For a casual look, they can be paired with sneakers and a t-shirt, or they can be paired with heels or boots, and a blouse. These pants can also be styled in a variety of ways depending on personal taste. The color of the pants can also vary, from classic neutrals such as black or khaki to bold and bright colors for a more statement look.
4. Sheer Midi Dress:
Sheer midi dresses come in various styles, colors, and fabrics. The sheer fabric adds a delicate and romantic touch, while the midi length creates a sophisticated and elegant look. Sheer midi dresses can be worn for formal occasions such as weddings or cocktail parties, or for more casual events such as a summer garden party. Sheer midi dresses can be dressed up with high heels and statement jewelry for a formal event, or dressed down with sandals and a denim jacket for a more casual daytime look. They can also be layered with a blazer or leather jacket for added edge and versatility.
5. Moto Jackets:
Moto jackets are versatile and can be paired with a variety of clothing items. They look great with jeans and a t-shirt for a casual look or can be dressed in a dress or skirt for a more formal event. They also look great layered over a sweater or hoodie for a more relaxed vibe. They can be found in fabrics such as suede, denim, and even velvet. They are also available in a variety of colors, from classic black to bright and bold hues.
6. Bubble Hems:
Bubble hems are a great way to add volume and dimension to an outfit. They can be paired with a fitted top or a crop top to balance out the volume and create a flattering silhouette. They also look great with heels or sneakers, depending on the desired look. Bubble hems are a trendy fashion detail that can add a playful and fun touch to any outfit. Bubble hems can be found on a variety of garments, including skirts, dresses, and even shorts.
7. Boudoir Dressing:
Boudoir dressing typically involves using fabrics such as silk, satin, and lace to create a soft and feminine look. Slip dresses, camisoles, and robes are common pieces in boudoir dressing, and they can be paired with tailored blazers, denim jackets, or chunky knit cardigans for a more casual look. It is a great way to experiment with different fabrics and textures and can be adapted to suit personal style and occasion. This trend has become increasingly popular in recent years, with celebrities and fashion influencers embracing the trend and incorporating boudoir-inspired pieces into their everyday wardrobe.
8. Rental Revolution:
The rental revolution is a growing trend in the fashion industry that involves renting clothing and accessories instead of buying them outright. There are many different types of rental services available, from formal wear rentals for special occasions to monthly clothing rental services that offer a rotating selection of outfits. Some rental services specialize in high-end designer clothing, while others focus on everyday wear.