Pregnancy is a wonderful feeling. Seeing your bump growing a little every day is bliss. If you are one of those passionate parents, and you want to welcome your newborn in a nursery, decorated heavenly then you should be planning on new ideas from now. Apart from the essentials that you must provide in your baby's nursery, there are also a few personalized ideas that every parent dream of.
Different Types of Nursery Furniture
Cradle or Bassinet: If you are dreaming of a comfortable cosy and convenient place to lull your baby to sleep, then you should go for the bassinets or the cradles. Cradles are generally made softer and cosier than cribs. Cradles are often provided with wheels to facilitate moving it across rooms. You can keep the cradle aligned to your bed at night or even keep it under your observation whenever you want just by moving it very easily. There are different types of cradles from vibrating cradles to swinging cradles. Travels with wheels and also, ones that are stagnant in one place. Specialised travel cribs or travel cradles, can be folded and taken over a distance.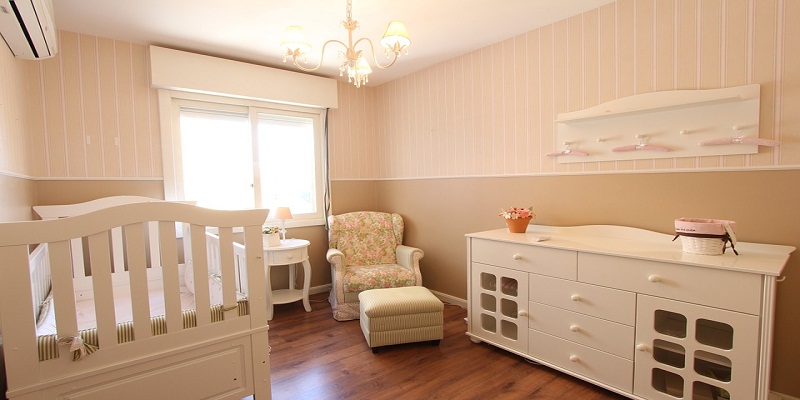 Baby Cribs: trips are generally used for the absolute new-borns. You can make your child sleep in the crib till a second or third year. Cribs are very sturdy. They do not feel squeaky or rickety even when shaken hard. Cribs can be ordered to be made according to your personalized choices, and even you can buy it online at different places, searching by area like kids furniture. Cribs can be provided with extra drawers to keep the beddings and the clothes of your babies. Cribs can vary greatly in sizes. There are travel cribs, mini cribs, portable cribs, and even space and money saving cribs. Traditional trips are still most popular among customers as these have quite a lot of space; your baby can sleep quite comfortably, till age 3 or more, depending on his height.


Some Important Notes on Cribs and Cradles

It is completely your choice whether you will choose a bassinet or a crib. But always remember to prioritize your baby's needs before all. The furniture should be in accordance to the newest and improved safety standards announced by the consumer product safety commission. Also, you should always be alert to avoid any kind of strangulation hazards. Remember to always make sure the baby lies on her back whenever you place her in the nursery furniture. Look for online kid's furniture shopping to get more ideas. If you are buying a product that needs to be assembled then run a careful look at all the parts provided. Tighten the hardware properly and sincerely follow the instructions provided inside in the process.
Conclusion
If you are planning to make your baby's room look gorgeous yet at the same time, planning to save some money you must have thought of choosing the kind of styles that will remain trendy for years. It is needless to say that you should buy, furniture that r a bit greater in size than your baby's actual height. Also, you should consider some authentic traditional styles and avoid temporary trends. Considered neutral colors that will be loved by your son or your daughter equally.