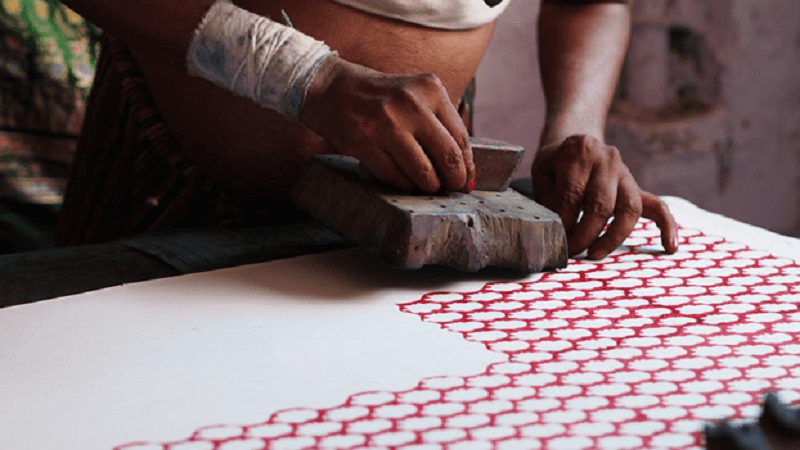 Print crafting and designing have been an essential part of our textile sector. Hand block print has its prestige and value. The fabric industry has a huge demand for hand block printing as nothing can replace hand block print fabrics.
The hand block prints and block patterns have a special space in the home decor whether it is furnishing fabrics, throw cushions, or dining napkins. Despite design and beauty, this cloth has a long history of centuries that shows the power of artistry throughout the face of colonialism.
Block print art is the pride of India. A lot of artistic works of dyeing with printing on clothes have been refined over centuries. Whether it is Rajasthan's remarkable Sanganeri print fabric or the Dabu print work which shows the mud printing approach or Gujrat's Ajrakh print that features geometric themes, every hand block printing work shows the rich history of our culture and legacy.
Rich History and Background of Hand Block Fabric Printing
The origin of hand block printing is around 4000 years old after China. After China, it spreads across the other parts of Asia and the western world. The first evidence of block printing in historical literature is found in the name of the diamond sutra. This writing is found in the Gutenberg bible. The origin of this technique in India is not clear.
Another idea discloses that the origin of this style technique is seen during the Indus Valley civilization. Between 3500 and 1300 BC fabrics and clothes, especially cotton fabric was exported from Harappan Era. During the inspection of the Mohan Jodaro place, some scholars found needles, pins, spools,s and cotton fibers designed by Madder. The producers use the madders plant' root to obtain to get the dye of hues of the red.
Art of Handblock Printing in Mughal Era
However, research shows that it started in India during Babar, a descendant of Ghengis Khan. Only the Mughals were able to develop hand block printing in India. Mughals king lavished patronage on arts and lots of creativity was done in the development of this art as we understand it today. The Mughals popularized the complex floral themes of this technique from Rajasthan. The Mughal rulers were fond of block printing. The Mughal monarch of Taj Mahal Shahjahan was renowned for his extravagant taste in fabrics. With Mughal sponsorship, there were a lot of areas that were promoted for developing hand block printing such as Gujrat and Rajasthan where this art is still existing with big producers.
Hand Block Printing Art During the British Rule in India
The post-Mughal period witnessed an increase in European authority throughout India and was known as British Raj which reigned until 1947. Due to the popularity of European modernity, Britishers Started exploiting different fabrics in India. This resulted in the close of local weaving and consumers start purchasing cheap replicas of their previously well-known fabrics. The British quest resulted in violence in society. They practically hacked off the fingertips of various craftsmanship of India.
The craft of Hand Block Printing In Rajasthan
Various villages in different parts of Gujrat, Andhra Pradesh, and Rajasthan used these hand-block printing fabrics. Among them, the Chippa group of Rajasthan is well known for its Bagru prints. This fabric is a combination of turmeric and fuller soil. Later on, artists started using natural colors of indigo, pomegranate blossoms, and alum for printing work. The key distinguishing feature is that craftsmen imprint the pattern on different hues like off-white on a foundation fabric. The designer uses fuller soil to design the fabric. Their printing method is an easy and the greatest eco-friendly approach available in the market.
Sanganer is known for its calico work known for its dual prints done continuously in diagonal rows and rakhi designs whereas because of Dabu designs and Syahi Begar comes in both colors black and yellow and is performed using the resist printmaking process. This comes with both sides of the textile. Sikar and Shekhawat's designs use camels, horses, lions, and peacock prints where as Barmer's prints show red chillis and trees with a blue-black border.
Present Architecture of Hand Block Art
Block printing is pretty much similar to the Mughal era in today's time at least when we talk about hand printing. The present form of block printing comes under three aspects which are resist printing, direct printing, and discharge printing.
Bhavnagar, Kutch, Jamnagar, Dhamadka, Rajkot, Vasna, and Jetput are the best-known locations for hand block printing in Gujrat. Ajrakh printing is produced in the village of Dhamadka and includes various colors and designs.
Hand-block printing fabrics are popular still among people. The textile industry also pays attention to manufacturing this fabric for further development of this technique. Sanganeri print fabric of Jaipur is the world's prominent center of hand block printing and is considered a sustainable fabric with this technique.