Traveling with that someone special is a trip that's more exhilarating than the one we take with family or friends. The chance to grow closer together and strengthen that romantic bond is one no one must miss. With December underway, soon Valentine's Day will be here and couple all over the world will be looking to travel someplace exotic for a romantic holiday. This upcoming Valentine's Day, book cheap flights to India and come enjoy holidaying in some stunning places the country has to offer. To help you with the itinerary, here's a list of some of the best and most romantic places for Valentine's Day in India you can choose from.
Located remotely from the mainland, this cluster of beautiful islands is one of the most romantic places to go on Valentine's Day in India. Offering stunning waters, beautiful birds, the shade of coconut palms, sandy shores, an abundant marine life, and exotic coral reefs among scores of other attractions, Lakshadweep is the best place to head to with your beloved this Valentine's Day. Book cheap last-minute flights to the region and come enjoy nature at its raw best.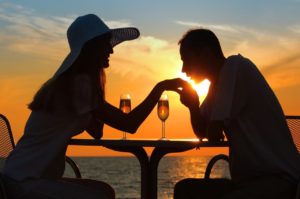 For romantic couples that would rather spend time exploring architecturally stunning monuments, Jaisalmer is the place to head to. An exquisite mix of historical sites, religious places, and cultural hubs, Jaisalmer has something to offer everyone. The stunning sand dunes of the region are among the most amazing natural attractions to behold. Apart from exploring ancient palaces, you can enjoy camel rides as well along with your beau.
Not just famous for religious places, Gokarna in Karnataka has a lot more to offer when it comes to romantic places to visit. The beaches are secluded enough so that you can enjoy a quiet time together minus the crowds. There are lush green hills and dense forests offering you the opportunity to trek amidst the most scenic places ever. This is the best place to head to on cheap business class flights if you wish to have a low-key and private romantic holiday.
Pahalgam, Jammu & Kashmir
Placed at the confluence of the stunning Sheshnag Lake and the Lidder River, Pahalgam is an offbeat but one of the most romantic places to visit in the country. With the massive and remarkable Himalayan Range at the backdrop, the place is mesmerizingly beautiful. If you happen to be the adventurous types, you can enjoy trekking, be golfing, angling, and horse riding among other such exciting activities here. Quiet ones can stay indoors and enjoy the awesome beauty of the place by taking an occasional stroll outside.
Tucked away in the midst of the Arabian Sea, this small but scenic island city offers a serene and secluded ambiance for romantics to enjoy. While Daman is more crowded of the two, Diu is perfect for couples that wish for a secluded area for a quiet romantic break. Top attractions you can explore together include ancient Portuguese-influenced churches, famed leather products, bamboo mats, handicrafts, and exciting water activities among plenty of other things.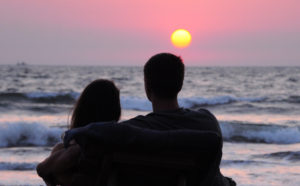 Home to arguably the most popular beach in Kerala, Kovalam is one of the most exceptionally stunning romantic places for Valentine's Day in India. Vast, unending stretches of sandy beaches, pristine waters, secluded and serene ambiance, and the views of an incredible lighthouse, beckon couples to come and have one of the most romantic holidays ever.
One of the most stunning places to visit in Northeast India, this remarkable town located amidst the gorgeous Lushai Hills is an awesome place to explore. Couples that love nature will enjoy visiting this breathtakingly beautiful place serving as the capital of Mizoram. Top attractions you can enjoy here include Durtlang Hills, Vantawng Fall, and Blue Mountain Phawngpui among scores of others. There are magnificent white churches set up in hilltops and bamboo forests which you can enjoy exploring as well.
Rajasthan's sole hill station, Mount Abu is like an oasis in the middle of a desert blessed with stunning mountains, gorgeous lakes, and breathtaking waterfalls. Also an offbeat but awesome place for a romantic holiday, this is one of the best places to head to with your beloved this Valentine's Day. Sunset Point is the top attraction here among plenty of others you can enjoy exploring together. Like all the others mentioned above, Mount Abu offers you the chance to have the most romantic holiday this Valentine's Day.
Author Bio: Laxman is enthusiastic about traveling and then writing down his travel experiences to narrate them to people. He spends most of his time in the lap of Mother Earth and also likes to listen to the stories of unknown people. His articles are sometimes inspired by strangers while others are very much his own tales to tell.