Ronit Ashra is a 17-year Indian boy who is recently come into the picture due to his unique videos made on celebrities. He is a Mimicry artist and famous for creating mimicry videos in a very funny way and hence become popular among people and celebrities. To know more about Ronit please read the below article.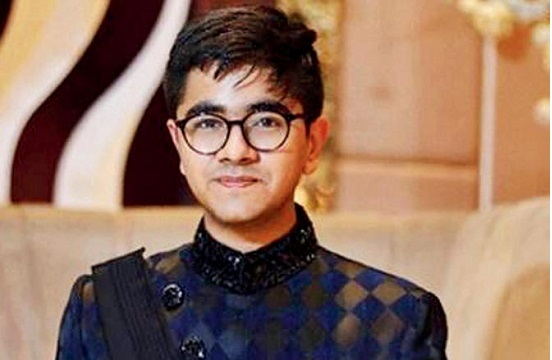 Ronit Ashra Biography
Name – Ronit Ashra
Age – 17-year-old
Birth Place – Delhi
Family– Ronit Ashra live in Delhi with his family and elder brother Tanmay Ashra.
Relationship status– Single
Education- Currently appeared for 12th from  Manav Sthali School.
Height– 5.1
Weight– 57Kg
Nationality- Indian
Religion- Hinduism
Career- Youtube, Tiktok, Instagram Content Creator
Net Worth- Around 50k (Indian Rupees)
How Ronit Came in Focus?
Initially Ronit start making his videos through TikTok and his Tiktok videos liked by people and he becomes famous in a short span of time. But when TikTok got banned in India, he starts making funny videos on many celebrities and posted on Instagram. He mimics videos on celebrities like by people and celebs as well. On Instagram, Ronit got more popularity and he has over 1 million followers on Instagram.
Salman Khan Praised Ronit for his funny video
Recently Ronit posted his Mimic videos on Big Boss-14 contestants Rakhi Sawant and Arshi Khan and host himself, Salman Khan. After watching his video's you can't stop yourself from laughing. The Makers share his video and also shown to Big Boss 14 contestants. after watching Ronit's video contestants roll on the floor as it was too funny. He mimics the celebs exactly the same by copying their wearing style and way of talking. Just go through the below video.
View this post on Instagram
Ronit Praised by host Salman Khan as well, Salman appreciates his work saying keep doing your work in a genuine way.
Ronit  Made a hilarious video on Ananya Pandey, TV Character Kokilaben.
 However, Ronit's page is flooded with mimicry of many celebs. But he comes in limelight to be celebs by a video made on Ananya Pandy that viral on the internet s. His viral video on Kokilaben rap also got instant attention and viewed by more than 4 million. Check out his video and see how he copies Ananya Pandey's fashion sense, way of talking, and kokilaben rap.
View this post on Instagram
View this post on Instagram
Ananya Pandey herself shared his video and praised Ronit by saying "Doing me better than me @ronit. ashra"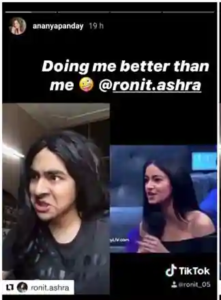 Apart From these celebs Check out videos made by Ronit on Sara Ali Khan, Shehnaaz Gill, And many others.
View this post on Instagram
View this post on Instagram
View this post on Instagram
 However As per sources Ronit making this video just to entertain people and make them laugh and hence he turned down many offers.
We hope Ronit continues to laugh in his best way. We are looking forward for his new video.