The best way of making memories compelling and meaningful is photography. Photography is a form of art that enables you to feel, to connect, to embrace the occasions and memories, and to make you preserve those moments for a lifetime.
When we talk about mobile phones, definitively, these little gadgets that we all take around with us everywhere are skillful of far more than just taking routine selfies. In contrast, smartphone cameras are not quite efficient in all the wonder that can happen with a DSLR. There are many ways to turn your smartphone into an impeccable camera through various software, accessories, and additional attachments that will significantly improve your phone's photographic efficiency. The massive benefit of using a cell phone as a camera is that you can bring it with you anywhere and anytime, as it is portable. While capturing nature, it is best practice to take photos like a hidden camera. For example, while capturing photos of birds, it's essential to take pictures without scaring them by bringing out your camera in some noticeable way.
Wendy Clark, CEO at DDB Worldwide and former SVP at Coca-Cola, said, "If your plans don't include mobile, your plans are not finished."
So let's discuss few points to turn your mobile camera into a professional camera.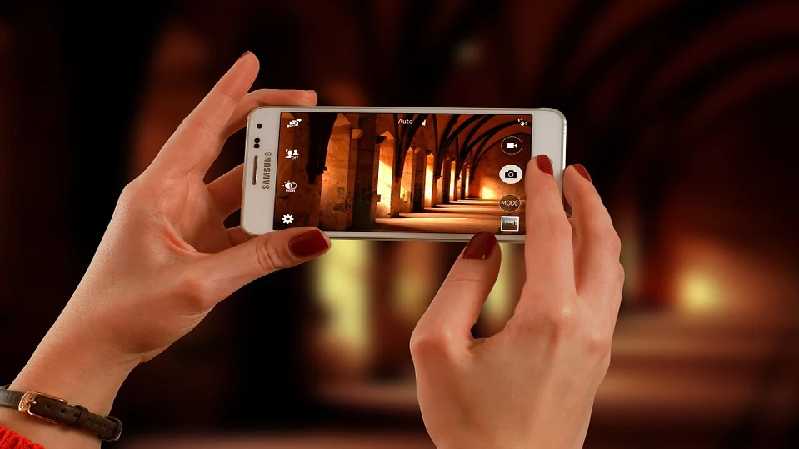 Perfect gripping: 
These ultra-slim phones are always tricky to grip because you have the most challenging points while using your smartphone as a decent camera. Sometimes you need a helper when it comes to keeping your phone stable.
Grip cases and rings, and holders are available in the market that looks nice and adds grip. You can find various cases on Amazon and eBay as well.
Camera tripod:
A smartphone tripod is a vital tool to help you develop your photography in technology, ideal for shooting with a telephoto lens, using time lapses, or for use during group shots. A tripod can not only keep your phone steady and targeted, but you can also pair it with a Bluetooth remote (see below) to ensure that no one leaves out the family snaps.
There are various tripods, all to fit various budgets with various features such as moveable legs with wheels or the legs stretching angles. This makes it possible for you to get the perfect composition for your images and encourage you to be creative, taking pictures from strange and whacky angles.
Bluetooth remote:
You can upgrade your photography performance even further with a Bluetooth remote,   without the need for an insane rush for clicking the camera to get into the picture, one of these cool accessories will allow you to take the best camera shots!
With your photography, a remote shutter helps you to get creative. Only set up a tripod on your tablet, try angles, and you're going to be able to get some images that look like candid shots. When you don't have a friend to take all your photos, this is beneficial for the ideal Social media image.
Additional lenses:
As with the lens your smartphone camera comes armed with, a Snapchat or Instagram filter will only take your photography so far. It is recommended refinancing in a compact lens for your phone to unleash your phone's powerfully. For this, you need to find the lenses that are best suited according to your need:
For panoramic shots, landscapes, cityscapes, abstract photography, and fish-eye (ultra-wide lens) is best. For architecture, interior designs, and landscapes, Wide Angle is best suited. For super-detailed photos, such as make-up, nature, design, and art, the macro lens is best suited. Telephoto is best suited to nature, sports, and astronomy.
Photo editing apps:
These apps enhance the photographic experience on a large scale. There are plenty of features of these apps ranging from photoshopping to enhancing the color schemes, in-built filters, numerous auto-corrections, etc. Let's talk about the few most powerful apps that can offer the best outcomes.
This software comes with a configuration that automatically changes images and customizable modification options, such as balancing, resizing, and smoothing.
In order to allow you more artistic control over images, Snapseed also has a range of filters.
VSCO is among the most commonly used applications for smartphones for photo editing. The app provides tools to help you quickly edit images with customizable filters, saturation, adjustments, grain, and much more. It comes with a variety of templates, which can be modified with extra functionality for adjustment. On some smartphones, the built-in camera features split focus and aperture, which improves the experience of taking images with mobile phones.
You can cut, tilt, improve contrast, eliminate red-eye, sharpen, modify, blur, and do many other things with your images with this free app. In addition to these conventional editing features, to enhance your images, you also get to select more than 600 effects, overlays, and borders in premium mode
There are a lot of other useful apps that can aid your photographic experiences like Enlight, Hipstamatic, Image Blender, Photogene, and Marketa.
This smartphone camera trick could help you out if you didn't afford a new high-quality DSLR camera. Only to get professional pictures, you don't need to buy a pricey device at all anymore.   You can take the best quality pictures as long as you follow the steps carefully.