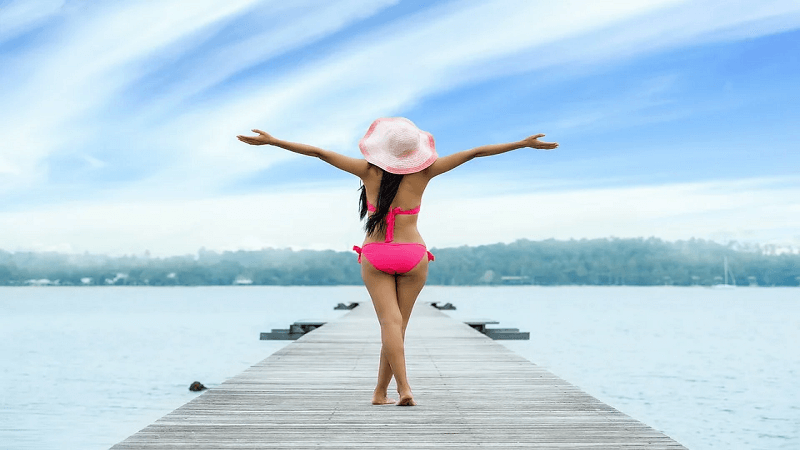 Who doesn't enjoy a relaxed day at the beach? And while you've made up your mind to unwind by the waters, the next thing to pop up is your beachwear. While nothing beats the excitement of shopping for your favorite shaping swimwear or your long desired and now discounted bikini, there isn't a better deal than crawling back to your closet and pulling out that favorite beachwear of yours!
To do that, though, you must make sure that you've taken the best care possible of your swimsuit.
Opt For Handwashing:
One of the simplest and easiest ways to maintain your swimwear is by simply handwashing it. Even a basic water rinse is enough if time is not your best friend. And when you have the time on your hands, you can opt for a suitable detergent or liquid for a thorough cleansing. It is also essential to read the manufacturer's guidelines well before you take matters into your hands. So read the washing instructions carefully to avoid any hassle later on.
Drying Time Matters:
Next in line is drying. Although this is crucial, minimal emphasis is given to thoroughly drying your swimwear. It can result in deteriorating the lifespan of your bathing suit. Even if a bit of room is left for dampness, moisture will collect in the mesh or inner linings and cause them to weaken over time. Besides, you want to avoid the unpleasant stench of moisture on lycra or polyester! However, you must ensure that you do not expose your swimwear to too much sunlight, as that can significantly hamper the durability. Therefore ensure you don't go overboard with this part and yet not underplay the importance of complete drying.
Also, read Exercise to reduce Breast Size with Pictures
Avoid Harsh Detergents:
Although there is no denying that cleaning is an integral part, there is no denying that wrongful cleaning methods or materials can do more significant damage to your swimwear than any good at all! One of the ways to go about it is to avoid the use of any solid chemical-based detergent or cleaning solution. Today, the market is brimming with many fabric cleaning agent brands that specialize in mild detergents and are more 'material-centric'. After all, you don't want to see that priced bikini or bathing suit of yours fade away or wear out due to the use of an unsuitable cleaning solution.
Store and Wear With Care:
Finally, apart from the external measures you take to maintain your shaping swimwear, it is crucial that you also care for it while you're wearing it. Simple things like checking the surface before you sit or lie while you're donning swimwear can go a long way in maximizing its lifespan. Additionally, please do not sit on your swimsuit; keep it lying outside your closet or substitute it in place of your other undergarments. They serve a specific purpose and must be put to use accordingly.
Summing Up:
Apart from the points mentioned above, it is essential not to iron out any paddings or even iron your swimwear. Wash well, let it dry and neatly fold it away into your wardrobe. If needed, you can also use a hanger to store inside your closet. By noting down these tips and tricks, you can confidently hit the beach without worrying about how your swimwear looks. The rule is simple, care for your swimsuit, and it will care for you!
Author Bio
Phrona Brown is the author of an article, and she is quite experienced in writing different social media platforms for marketing and lifestyle. She guides you about promoting your business on social platforms.