All forms of exercise are most effective when done in the morning. And yoga is no exception. A morning yoga practice routine has many benefits for both the body and mind. For the body, yoga helps stretch and energizes the muscles, preparing them for the activities of the day. It also activates the organs, improving the digestive functions of the body. Daily morning practice will also help keep craving in check and keep you from overeating throughout the day. A rigorous asana practice burns fat and promotes weight loss.
Mental and emotional benefits are also many. Starting your day with yoga ensures you have a balanced start to the day with more mental awareness and clarity. It helps focus the mind and its energy on oneself. Yoga also balances hormones in the body that play a vital role in regulating bodily functions, making it easier to maintain that balance throughout the day. Daily Morning yoga also sets a routine that helps improves sleep timing and quality. This helps create and maintain a daily routine, which is much needed to function well in these uncertain times.
Now that we know how the benefits, here are the centers that offer morning classes.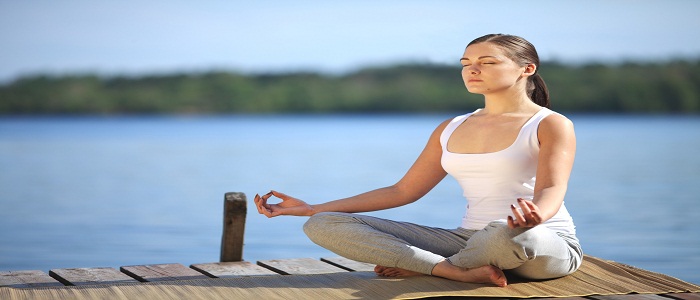 Sri Krishna Wellness, Yoga and Cultural Center – Located in the heart of Malleshwaram, this center has well-lit studios that are fully equipped. They offer exclusive pranayama sessions that are excellent to cleanse the body and boost immunity. The Center also has an exclusive ladies batch that focuses on the wellbeing of women and aids weight loss. They now also offer online classes.
Akshar Yoga – Offering a wide range of courses, Akshar Yoga has batches schedules throughout the day that you can choose from. Their classes follow different asana flows for each day of the week. They also focus on building stamina, weight management, flexibility, and strength. Their main center is in Sadashivnagar, with many affiliate studios located around the city.
Fit – With yoga centers spread across the city, Mind.Fit centers come fully equipped. They offer yogic practices as tools to build a healthier body and mind. You can also choose from a wide variety of online offerings to suit your needs, which include packs designed exclusively for morning practices.
Sarva – With 25 forms of yoga, Sarva is a yoga studio chain that has something for everyone. They have yoga courses designed for weight loss, alignment, strength, flexibility, focus, and much more. Their studios are specially designed to transform for each of their programs. Sarva has centers across the city.
Pradipika Institute of Yoga Therapy – With centers in Malleshwaram and Rajajinagar, they classes for various proposes, including weight loss. The centers also have ladies' batches and yoga for pregnant women.
Make yoga a part of your daily morning routine, committing to a fixed time every morning.
Sri Krishna wellness is Yoga Centre in Bangalore